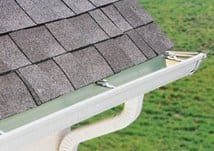 Why Should You Clean Your Gutters?
Investing an afternoon clean your gutters is likely not an activity you anticipate as a homeowner, yet regular gutter upkeep is integral in keeping your house's roofing system, exterior, and foundation devoid of water, particles, and other unwanted elements.
What may cost you an hour or more of your time more than makes up for the possible thousands of dollars you would spend fixing water damage to your property– or to your roof, need to the gutter collapse from the weight of its contents.
We can't make cleaning your gutters sound fun, or even pleasurable, however, we can provide you recommendations that might make the task much easier and more effective. Initially, let's discover more about the value of well-kept gutters.
Why Do I Need To Clean My Gutters?
Gutters are designed to collect rainwater from the roofing system and bring it away from the structure of the household through downspouts. Given that both the gutters and downspouts require to be clear in order to carry out this task, having clogged gutters could cause an overflow of water.
If the water has no place to go, it will naturally fill up the gutter and eventually overflow onto the structure of the home— and it won't stop there! Depending on the amount of water and the status of the structure, water could seep into your basement or crawl space. Foundation repair work alone could cost up to $10,000, and if water leaks into your basement, your house could be at hazard of mold.
Clogged gutters can also create weight stress on your roofing and the fascia (the boards behind the gutters). If the gutters are too stuffed, they might potentially collapse off the roofing of your home, causing damage to the shingles of the roofing and the outside of your house.
To sum up: A regular cleansing of your gutters can prevent damage to your roofing, exterior, and structure, saving you thousands in possible repair costs.
How Often Do I Need To Clean Up My Gutters?
Now that you know what's at stake with clogged gutters, how do you guarantee your gutters are well-kept and able to efficiently channel water away from your property? Obviously, it's not practical to climb a ladder every day and check their condition.
Really, a lot of experts will primarily advise that you clean your gutters 2 times a year: just once in the spring and another time in the fall. Nevertheless, depending on your city's climate and the number of trees near your house, you might have to clean your gutters more regularly.
This is particularly true if you live in an environment where it freezes during the winter. If your gutters are unable to effectively drain water from your roofing, the accumulation of water may reach your roofing system and cause damage to your shingles when the weather condition drops to freezing conditions.
It's also not a bad concept to check your gutters after a serious storm. Leaves, branches, and other debris may have become removed during the storm and found their entry into your gutters.
It might seem like a lot to stay up to date with, but investing just an hour of monitoring and perhaps clearing out your gutters a couple of times a year is worth the expanse of cash you'll conserve in prospective damage. If you're still not thrilled by the prospect of climbing up a ladder and unclogging your gutters, you can outsource this task to a professional.
How Do I Maintain The Gutters Myself?
For some, the cost of working with an expert to clear out your gutters is worth it, but if you're wanting to save cash, you can tackle this job DIY-style by following our step-by-step guide below.
Get The Right Equipment
The ideal equipment can make all the difference when it comes to cleaning your gutters. Beyond a fundamental ladder, there are a few more items that can help make the job more effective. In addition to getting the best devices prior to you begin cleaning your gutters, it's likewise an excellent concept to inform somebody in your home, a next-door neighbor, or a close family member or friend that you'll be working near the roofing system of your home and for how long you intend on working. In the case that you fall off the ladder and become injured, it is necessary that at least someone knows what you're doing and where you are.
This brings us to our next point: If you do not have lots of experience working on a ladder, ask somebody to find you while you clean out your gutters. At the minimum, protect a standoff stabilizer that connects your ladder to your house so it will not fall over while you're working.
Eliminate Gutter Debris
After you have actually gathered the right devices and notified someone that you'll be working near the roofing system of your household, it's time to get to deal with clearing out your gutters.
Put on your safety gear (dust mask, rubber gloves, and goggles) before climbing the ladder. You can either utilize the plastic trowel to dig out the particles or simply use your hands– all of it depends upon how comfy you feel using tools while on the ladder.
Use a container for gathering gutter debris. You can either get rid of the particles from your gutters and deposit them directly inside the bucket or drop it to your side, letting them fall and collect on the tarpaulin. Take your time eliminating the gutter particles, being careful to not extend your reach beyond the ladder, as you might fall by reaching too far.
If you're uneasy with heights or have a problem climbing up and down a ladder, you can clean out your gutters by using a leaf blower or pressure washer to eliminate the debris. Bear in mind, nevertheless, that this might end up being a messier clean-up later, as compared to collecting and depositing the debris by hand.
If your home is more than 2 stories, many sources suggest calling an expert to clean out second-story gutters, as the prolonged height could present a security danger to homeowners.
Inspect Your Gutters And Downspouts For Clogs Or Damage
After you end up eliminating gutter particles, utilize your hose pipe with the spray nozzle accessory to eliminate your gutters, removing anything you may have missed out on. This is likewise an important action for checking for any leaks or damage to your gutters.
Follow the same steps as you did eliminating the debris and slowly work your way down your gutter, letting the water run for a few minutes to look for leakages or obstructions.
Ensure to also hang out inspecting your downspouts for blockages. If you notice that the water isn't draining out of the downspouts, location your hose partway down your downspout and run the tube at high pressure. If the obstruction is still lodged inside the downspout, you can utilize a plumbing technician's snake tool to clean out any obstruction that remains in the downspout.
Last but not least, inspect your gutters to ensure they are firmly connected to the fascia and that any damage you found to the gutters is restored with a sealant. If the damage is more severe, you might need to replace the gutter or call a professional to set up a brand-new gutter.
This process must just take one– 2 hours out of your day. It likely will not be the emphasis of your day, yet at least you'll have assurance during the next heavy rainfall. Don't have the time to clean your gutters? Call us today at 778-242-4556 for a professional gutter cleaning quote!